GSA Golf FSR commercial show room golf simulators - suitable for any show room environment
Hotels, Cruise ships, Sports bars, Golf home communities etc, etc ...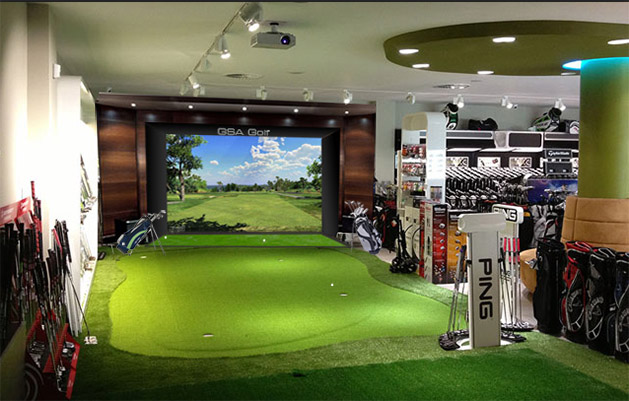 Available from just $ 7,995
System includes drape enclosure with premium impact screen, stance mat and grass turf flooring,
VisTrak hi-speed camera tracking system with 15 course TGC golf game software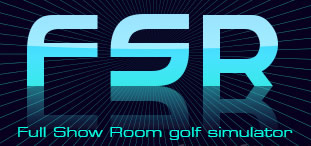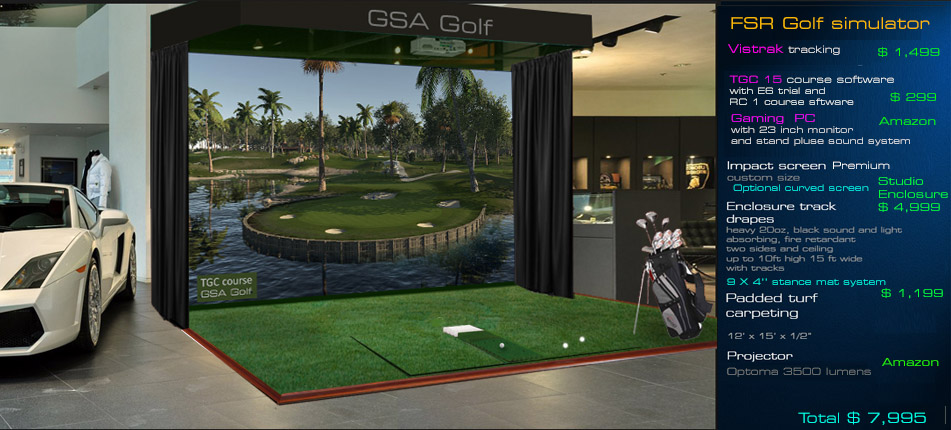 Base FSR systems come with track drape enclosure, dual stance mat and turf grass flooring for 15 x 12 feet, fairway grass fiber hitting mat,
Optional extras:
E6 15 course or TGC 98,000 course software : from $999
The FSR system comes with the VisTrak Hi-speed dual camera system with video swing playback
The system requires no calibration and is reliable and accurate.

Thinking of opening an indoor golf facility ?
Here's our recommendation
Return on investment
There's not much point in investing $30,000 to $50,000 per bay unless you are convinced that they will be used at least 50% of the time.
If you're thinking of opening 4 to 8 bays then that will be an investment of $120,000 to $400,000 just on the simulators alone
without the costs of the premises and staff.
At that rate, it will take quite a while to see any substantial returns.
In fact, we know of many that have tried using high end simulators in their facilities and that have failed miserably.
In some cases, even had to file for bankruptcy afterwards
If, however, you ARE convinced your indoor golf facility in your location will attract many customers then we recommend using only
VisTrak, CX2 or CX3
tracking systems in combination with our drape enclosures.

The world's first affordable hi-speed camera club and ball tracking system
VisTrak systems from $ 999.00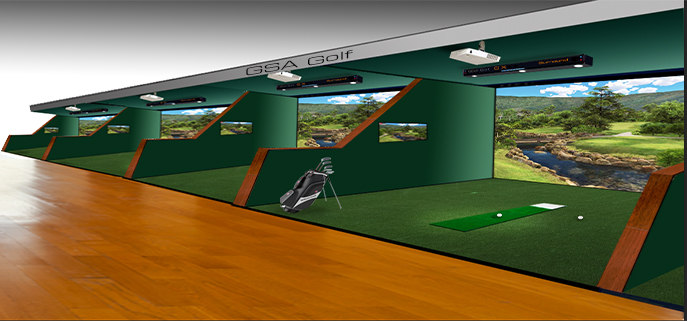 More about opening an indoor golf facility.
Quote from golf sim forum member Ookie
You need to start the business plan with:
1. What can I reasonably charge per hour, per station?; and
2. How many hours per week can I reasonably expect the simulators to be utilized?
Next consideration is operating costs. Rent, employees, utilities, advertising, and most importantly insurance.
In addition, you have to think about the other build out costs (e.g. a front counter, making it look nice inside, etc).
Will this be a stand-alone facility, or will it also be a bar and grill? I have mixed thoughts on that.
Golf alone is tough as a single source of income. But insurance may be an issue if you serve alcohol.
Then, circle back to sim equipment.
I will say this. If you plan to go $140-$200K in the hole on four simulators alone, you better be located in or near an ultra-high-net worth zip code.
Think NYC, Greenwich CT, Scottsdale, etc. Otherwise, not a snowballs chance in hell that you don't lose your shirt.
Strongly consider the suggestions about left-hander friendly options like ProTee, GSA or other ceiling-mounted, camera bases stuff.
If you do something like Skytrak, GC2 or Trackman, you need a quality video surveillance system, period. Stuff like that can walk out the door VERY easily,
especially in a location that gets crowded with bar business.
As much as we may like it, golf is declining in popularity, and is perhaps not the best vehicle for business ventures.

Even more about opening an indoor golf facility.
To add to Ookie's quote
There are basically two types of indoor golf facility users:
1. Those that just want to enjoy a round of indoor golf with their buddies over a few beers
2. Those that want to seriously work on their game and require very precise data feedback and analysis of their swings and shots.
The first will probably be quite content with a SkyTrak system or similar in the $3,000 range
whereas the second will require a far more sophisticated tracking system more in the $10,000 range.
Note that these price estimations are just for the tracking system alone and not the full enclosure with flooring, PC, projector etc.
Note that our F2 system using either the VisTrak tracking systems are the most suited system we offer for use in commercial setup in the $8,000 range.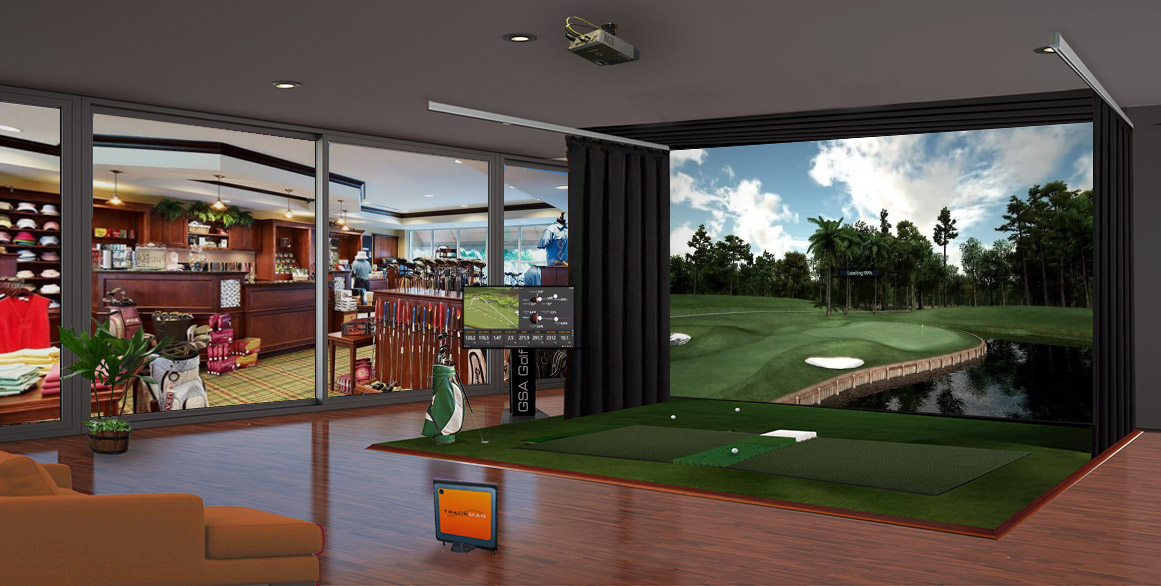 Use the Trackman ($25,000) with our Studio Enclosure ( $4,900)

GSA Golf - World class golf simulators you can afford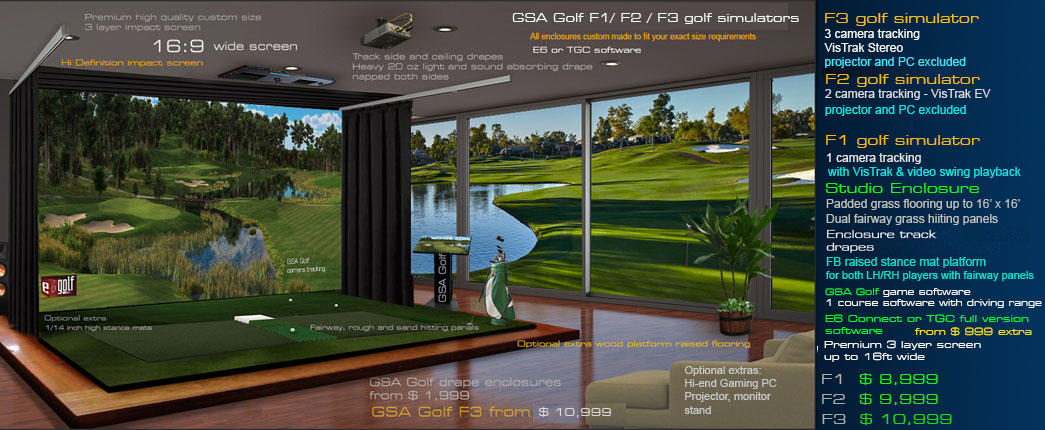 or our own CX3 ball and club tracking complete with our Studio Enclosure for $12,995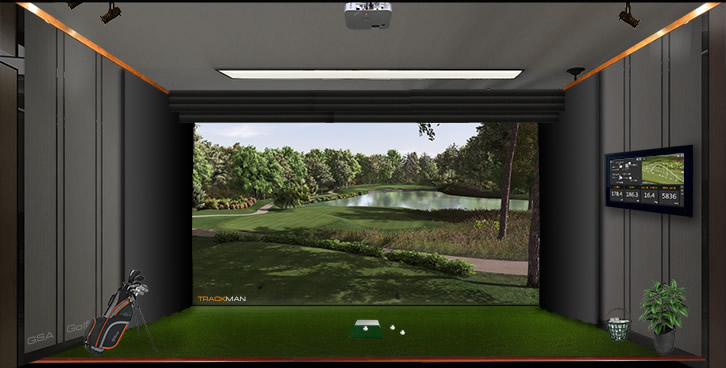 Golf
Multi-Sports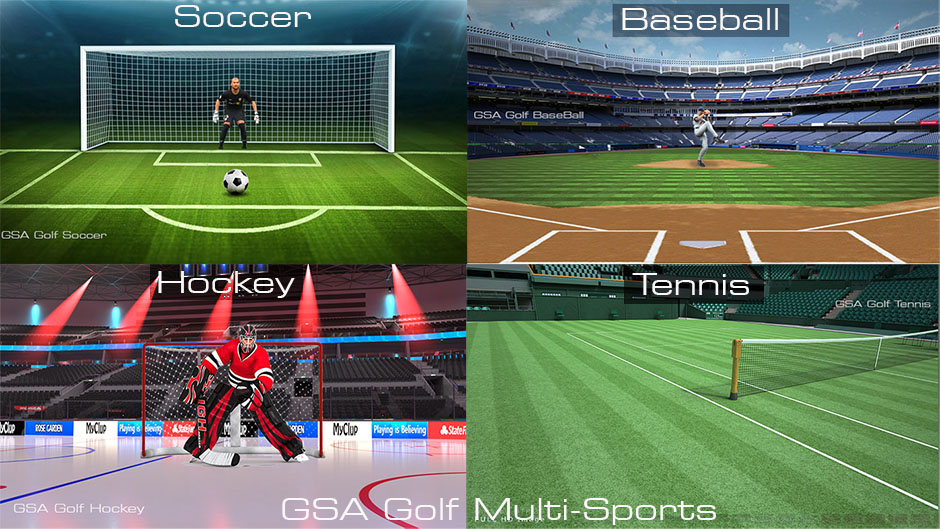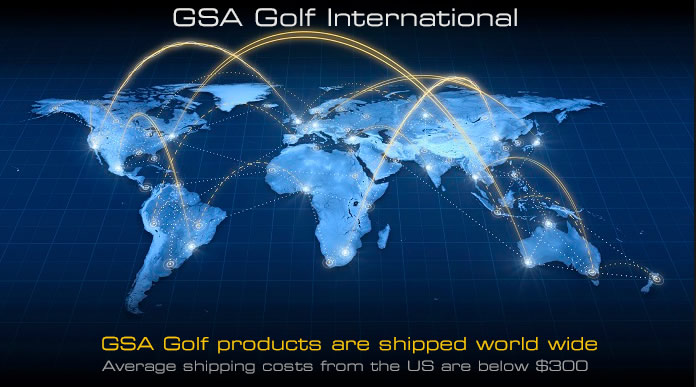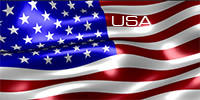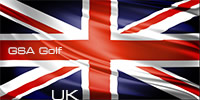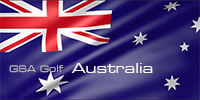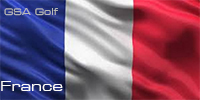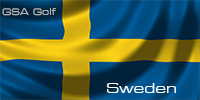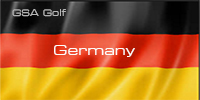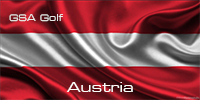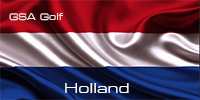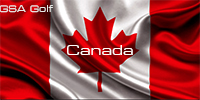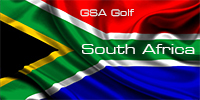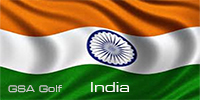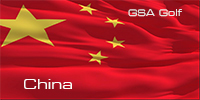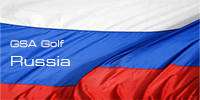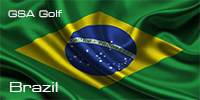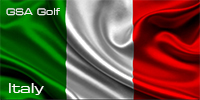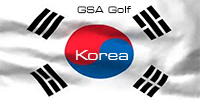 These are just a number of the international countries GSA regularly ship to other than our home USA country

GSA Golf business
GSA GOLF TAX 2019 - INCOME $308,756

Business opportunities with GSA Golf

GSA Golf is a supplier of golf sim component and systems to other golf simulator manufacturers
Currently GSA Golf components and systems are being used by 3 famous top brand name golf simulator manufacturers
and a host of other smaller golf sim companies.
Contact us if you are interested in using any of our systems for your company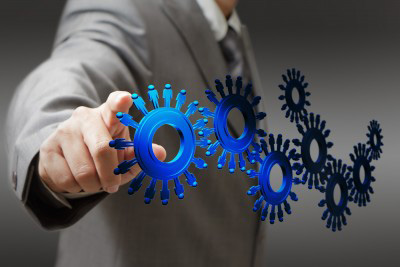 Golf Simulator Resellers
Enjoy huge earnings and great markups by using our cameras and software for your system installations or just offering any of products for direct sale.
Home theater installers can add a new dimension to their sales too
Contact us for more details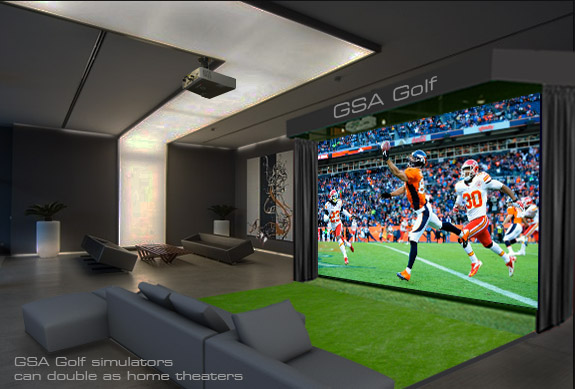 Name branding
You can even brand our systems as your own without any additional cost
All our logos and company names can be replaced by yours!
Profits on typical hi-end home installations using our systems are in the $10,000 range

Reps and start-up resellers
Looking for a new lucrative product line?
GSA Golf offer great commissions on sales on all our systems

GSA Golf exclusive resale contracts
If you're looking to be the exclusive GSA Golf reseller in your country
i.e. Any European country (UK, Germany, France, Italy, Netherlands etc)
or any other country like Australia, Russia, South Africa or any Far East country etc
then you can get our iron clad contract for this for just $10,000
Note that all products can be branded as your own
plus we can provide any custom software integration

What the most successful golf simulator companies earn
The two most popular low cost golf simulator pad manufactures have sold to date 50,000 to 75,000 units each at a retail price of between $500 and $900
Assuming both operate on just a $100 to $200 profit margin
then that equates to $ 7.5 million to $ 15 million profits each
Note that we have very reliable sources confirming these numbers
It has been estimated that SkyTrak sales have exceeded 20,000 so far
with a gross profit for the company of $1,000 per unit.
That would then equate to a gross profit of $20 million.
Likewise, the two most popular high-end golf simulators selling in the $30,000 to $50,000 range
have sold well over 5000 units each with an average of $10,000 profit per sale.
This equates to around $ 50 million in profits per company

Golf simulator prices falling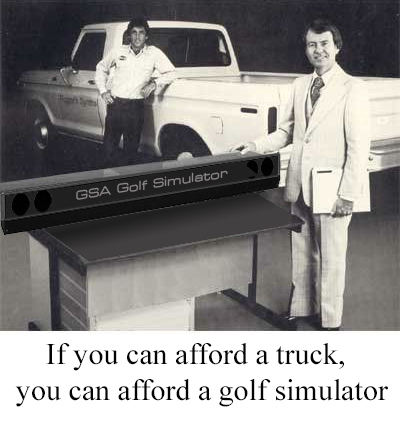 Today, this old ad from the 60's, would probably read
"If you can afford a motor scooter, you can afford a golf simulator"

GSA Golf system Installers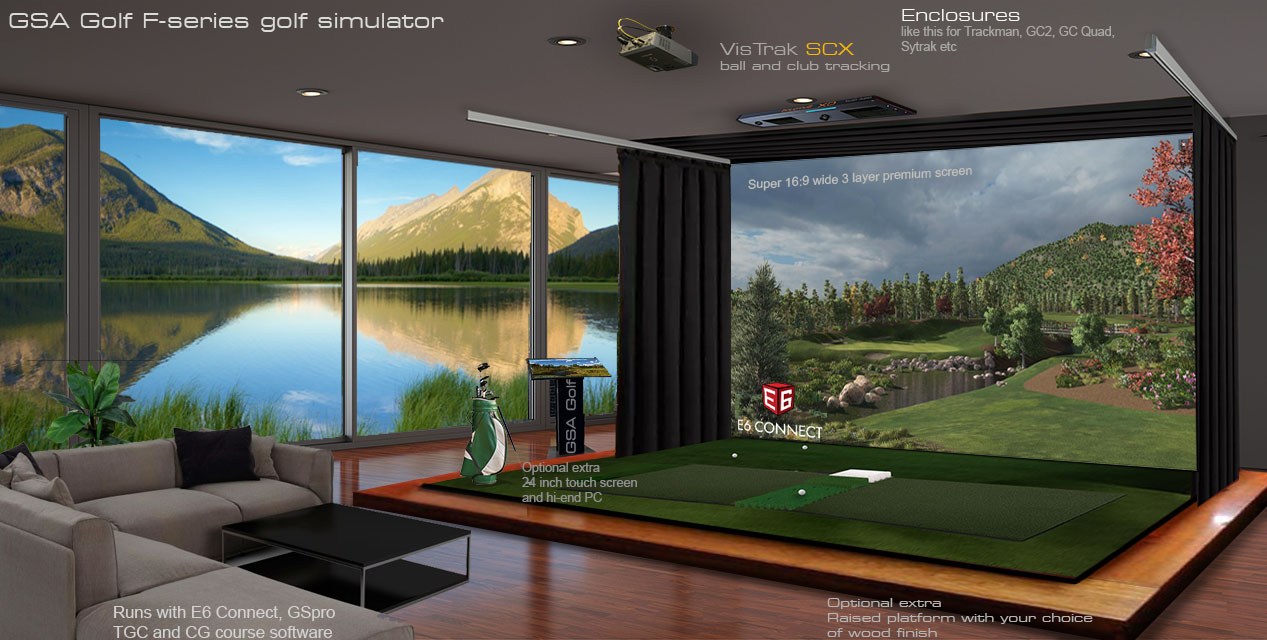 GSA Golf are currently looking for Home theater installers and Carpenters nation wide
to install our full version F-Pro golf simulators in high-end homes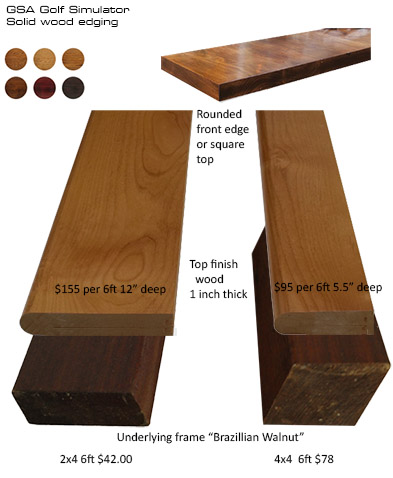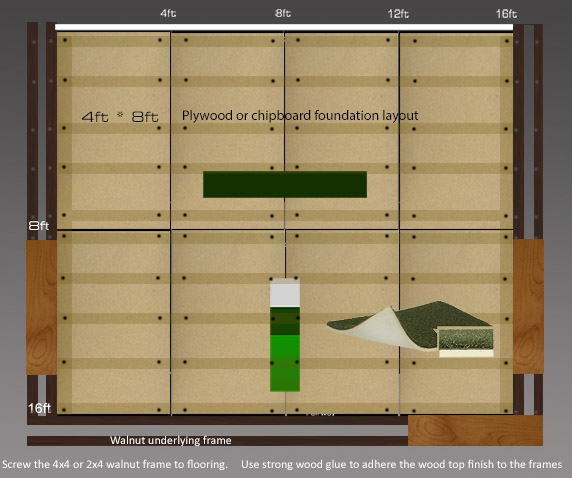 Carpenters : Earn
$ 3,500 to $5,000
plus to install the above raised wood flooring
All materials are supplied on site
Home theater installers : Earn
$ 3,500 to $5,000
plus to install the drape enclosure, PC, sound system and tracking cameras
All components are supplied on site
We remotely setup the camera tracking systems


---


Factory
Based in Naples, Florida,
GSA Golf products are meticulously assembled and tested by hand to meet the highest industry standards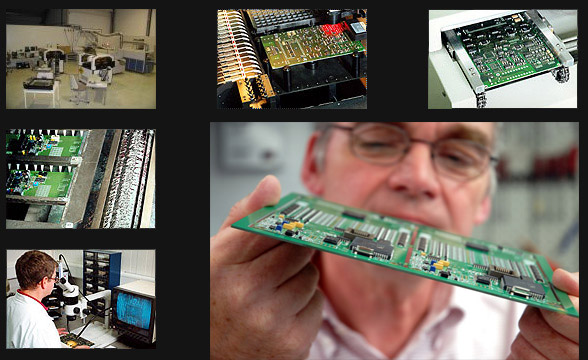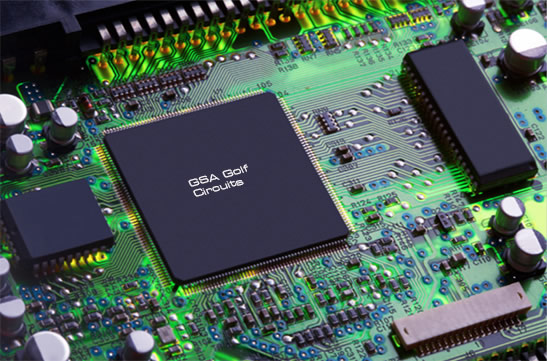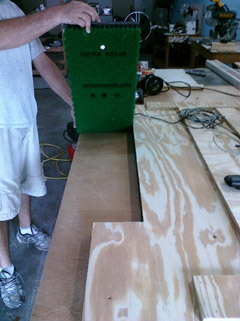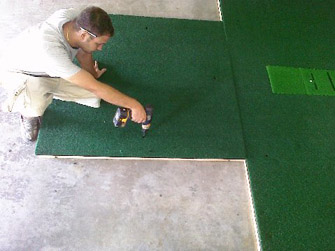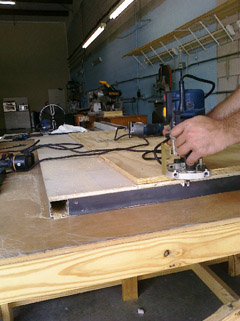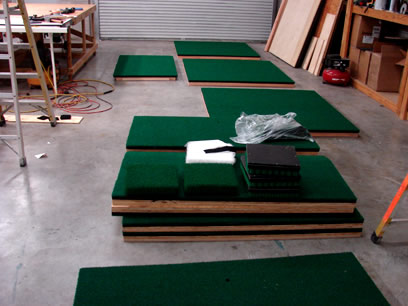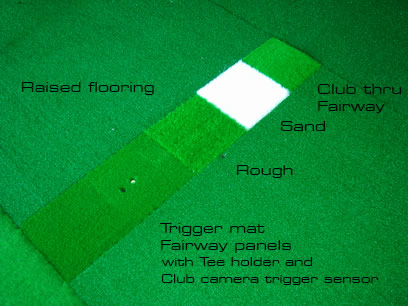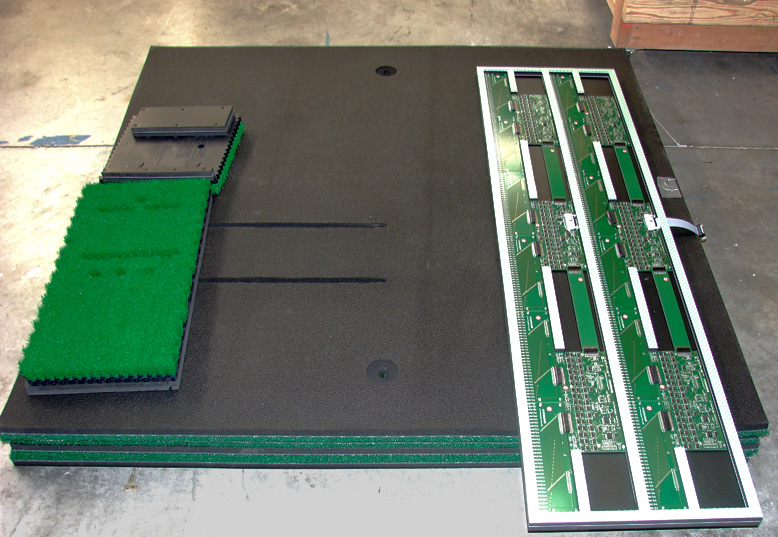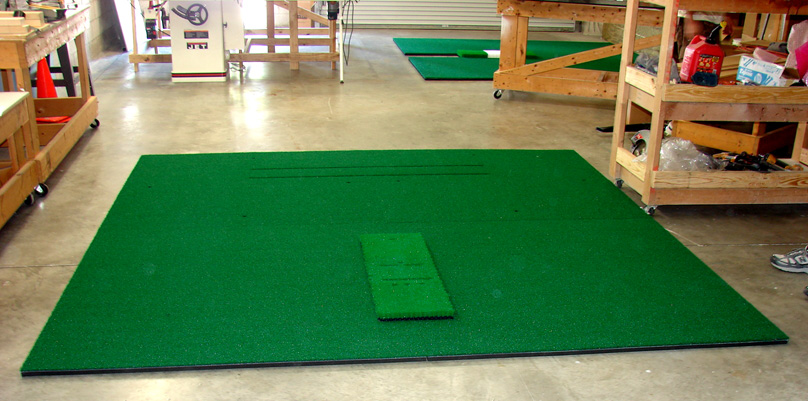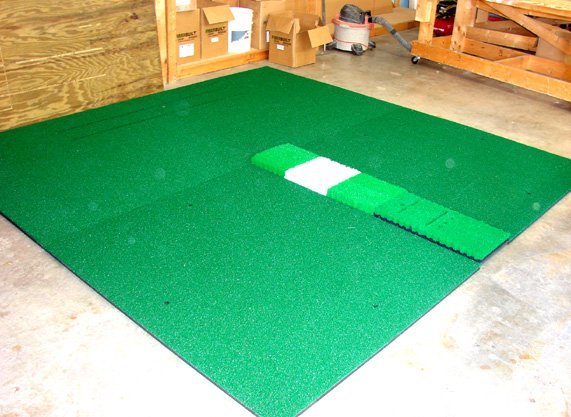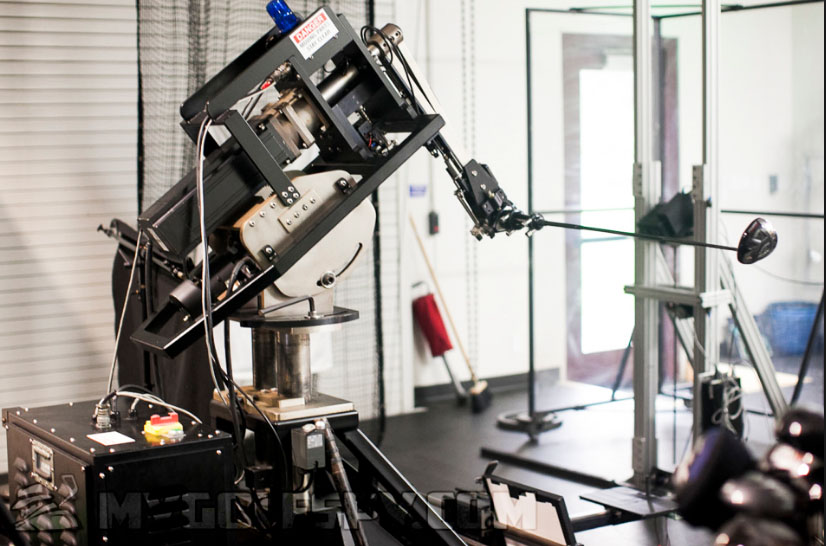 ---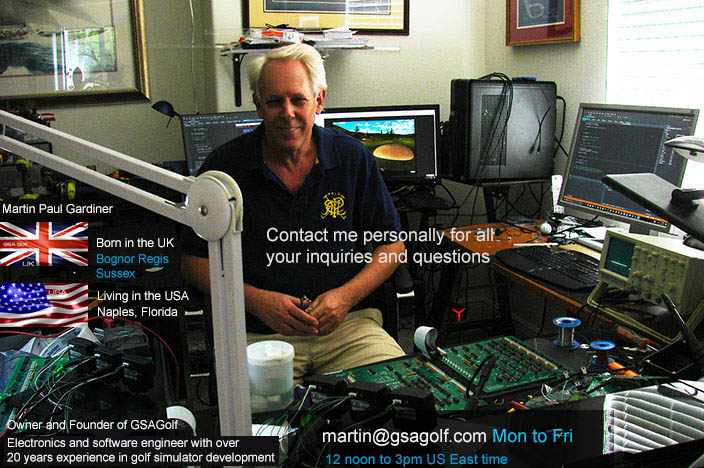 Hi! I'm Martin Paul Gardiner
Electronics and software development engineer and founder of GSA Golf

---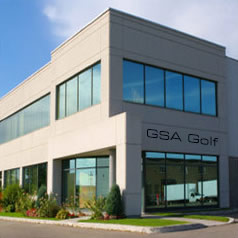 New GSA Golf showroom opening later next year in Naples, Florida