---
April 20 1:25 pm

- V 9.6.2.6 Alpha
Important VisTrak LX update
Fix: A couple of errors in ball marking detection and spin calculation fixed
VisTrak LX Video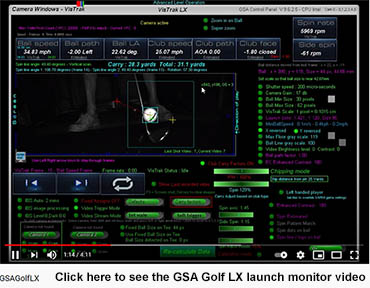 VisTrak LX video part 1 now completed
---
April 19 2:10 pm

- V 9.6.2.5 Alpha
Important VisTrak KX update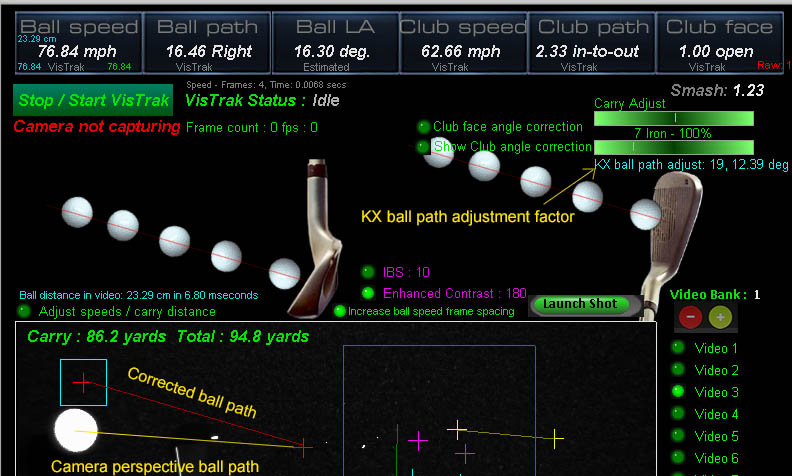 VisTrak KX perspective correction
Depending on the launch angle of the ball, the ball path will appear in the camera to go further to the left although the path was actually dead straight.
This is because the camera is viewing the ball from an angle.
The new KX Ball path correction factor fixes this issue.
The factor is based on the launch angle of the ball and only has to be set once for all shots as the correction is dynamic.
Putts and very low shots require little or no correction, whereas high shots will require far more.
The precise factor is not yet known but should be determined after tests later this week.
In the meantime, KX users can estimate it by striking a straight shot with a high lofted club and adjusting the factor slide bar until the ball path is near zero.
---
April 18 4:50 pm
VisTrak videos
While the videos I've produced over the last few days are not the most professional videos ever made,
they do give the user or viewer a better idea of how the systems work and their setup procedure.
Next up will be video setup and operating instructions for the LX launch monitor and the VisTrak Stereo LS models.
More in-depth setup and issue videos of all the systems will follow.
April 18 12:10 pm
VisTrak Vcam Video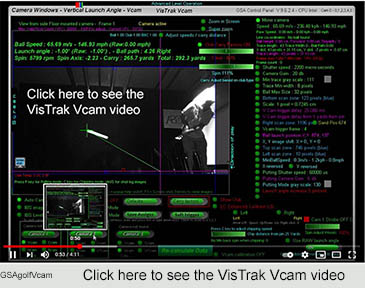 VisTrak Vcam instruction video part 1 now completed
---
April 17 5:00 pm
Phew! A 10 hour day comes to an end.
Lots of testing, updates plus all the new videos.
More videos coming next week but - other than a couple of remote support sessions tomorrow - I'll take it a little easier this Sunday.
April 17 4:40 pm

- V 9.6.2.4 Alpha
CP Update for KX2 systems.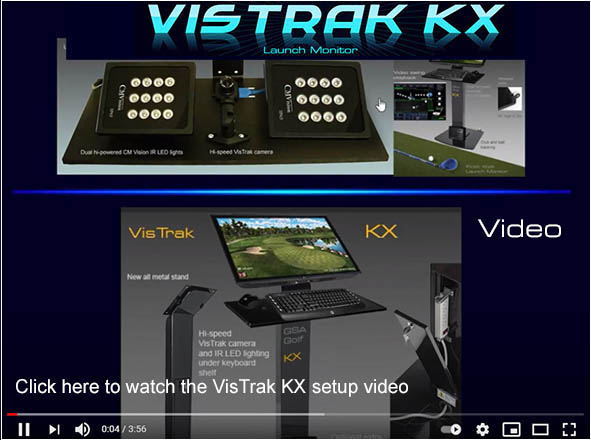 VisTrak KX instruction video part 1 now completed
April 1712:40 pm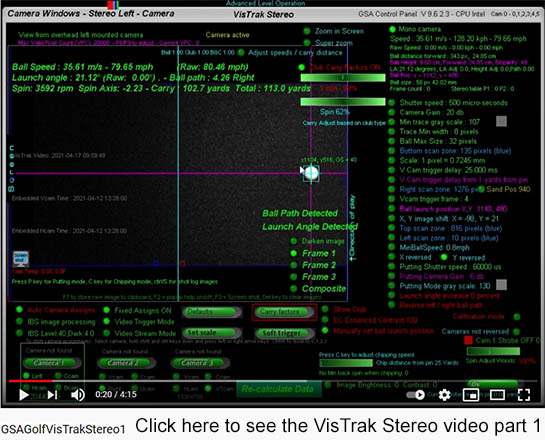 VisTrak Stereo instruction video part 1 now completed
April 17 9:16 am

- V 9.6.2.3 Alpha
Important update for KX2 systems.

1. New: the above new options are now available for KX2 systems
2. Fix: KX2 Vcam not being triggered from VisTrak camera
3. Fix: KX2 Green light not flashing when system in "looking for ball mode"
4. General all VisTrak system fix: "Beep on ball detection" option not being saved
---
April 16 12:35 pm
VisTrak camera installation video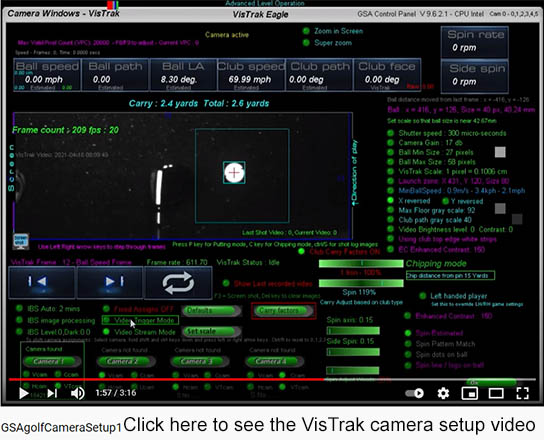 As promised yesterday, the VisTrak camera installation video is now complete.
---
April 15 7:15 pm
More VisTrak videos coming
The way things are going, I should be able to produce a VisTrak installation video per day now.
Schedule for the next 3 days are:
1. Camera driver installation, wiring and basic camera test (Friday)
2. Control Panel basics - part 1 (Saturday)
3. VisTrak basic operation - part 1 (Sunday)
Note that all these instructions are already published on this web-site but - judging from a number of remote access support sessions I've made recently -
people don't seem to be inclined to read them.
Hopefully moving and talking pictures (i.e videos) will help alleviate this issue.
April 15 2:50 pm
First VisTrak video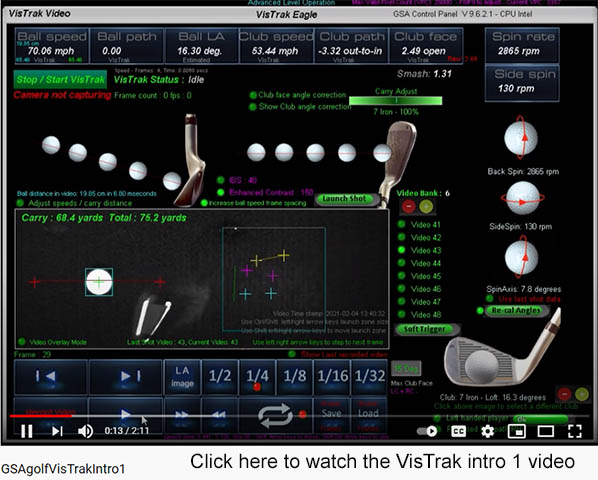 I managed to complete the first VisTrak Intro video today.
Audio isn't very good so I'll have to work on that but it does give the viewer a better idea of what the VisTrak camera is about.
I'll probably re-do the audio at a later date. (apologies for the Prince Charles British accent too - can't seem to get rid of that it would seem)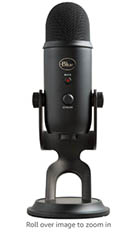 BTW I just ordered this professional Mic that should hopefully resolve the video audio issue in the next videos.
The next videos will concentrate on all the setup and installation instructions
Including:
1. Basic VisTrak camera installation
2. Vcam and Stereo setups
3. KX and LX setups and operating instructions
4. Problem solving
All in all, a probable 30 plus video set that will keep me busy all Spring and Summer no doubt. Fun to do though.
---
April 14 1:50 pm

- V 9.6.2.1 Alpha
Fix 1: The below options not showing with VisTrak Stereo systems

Fix 2: A number of small errors in VisTrak club and ball data calculations
---
April 13 4:40 pm
Setup and promotional videos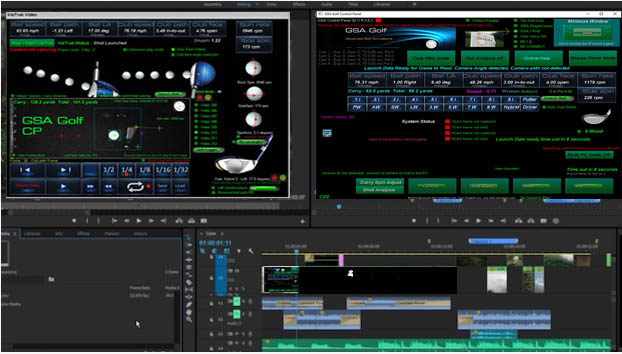 Video production software (screen capture and video editing) has been setup now, so the first VisTrak installation videos should be available by the weekend.
April 13 9:00 am

- V 9.6.2.0 Alpha

It was noticed that in order for the "Beep on Ball detected" option to work, the "Audio ball detected message only" option had to be additionally switched on.
This is now done automatically.
---
April 12 5:45 pm
Setup and promotional videos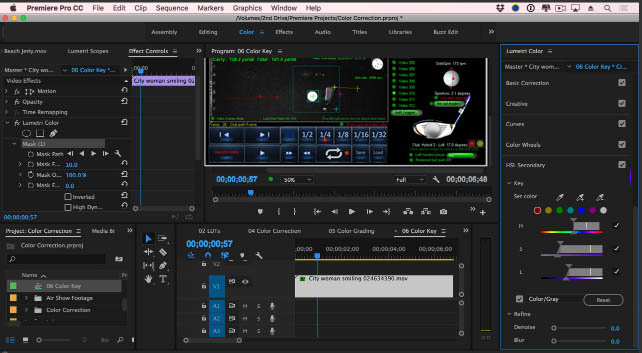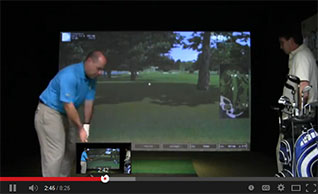 Judging from current user correspondence and feedback, system setup videos would be the most useful and most wanted aspect required at the moment.
i.e. instead of adding new features to the current systems or adding new products.
In answer to this, I'll be spending at least 50% to 70% of my time this Spring and Summer season dedicated to only this.
Video editing software has just been acquired (Adobe Premiere Pro CC) so the very first videos should be ready in a few weeks.
I'll start with just the basic VisTrak Eagle setup videos, then move on to more advanced levels and then on to the VisTrak Vcam , Stereo, KX and LX versions afterwards.
As both Setup and Promotional video production can be very time consuming, I estimate that it will take the best part of 6 months to complete this project.
So - as the GSA Golf range of products is now complete - it's time to promote them and support them with these videos on social media.
As such - other than the occasional system tweak or small bug fix - there won't be too many CP updates coming anymore now.
Time to move on - as they say - and get excited about a new phase in this business.
---
April 11 6:45 pm
What's next?
Having got the LX1 calibration tests done (took the best part of 2 days by the way) and as the CX Stream system is still waiting for the test results to come in,
I'll be be mainly working on ball spin detection from now on and - of course - adding general improvements to all the other systems across the board and supplying user support.
VisTrak LX1 calibration
Essentially, not required it would seem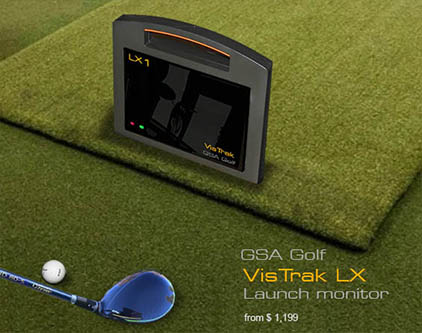 Other than the far ends of the FOV of the LX1 camera, the amount of calibration required is so insignificant that it's hardly worth using.
While the LX1 has a wide FOV, the far ends of it are not being illuminated by the LED light so this negates any requirement for the calibration at the ends of the image.
I did complete it today but - as the above calibration test card image shows - there's effectively no real measurable difference in ball size within the valid FOV of the camera.
The main reason for the calibration was to correct any significant change in measured ball size within the valid FOV of the camera of a perfectly hit straight shot,
as this would cause inaccurate ball path calculations.
Note that ball path is measured by comparing ball image sizes from its launch position to its in-flight position.
i.e. if the ball path is left, then the ball image will appear to get smaller as it moves away from the camera,
and if the ball path is right, then the ball image will appear to get larger as it moves towards the camera.
I am pleased to say though, that there is significant changes in image ball size when hitting the the ball left or right, so the LX1 will easily detect ball path.
April 11 11:45 am
VisTrak Stereo
We're adding an additional CM Vision IR LED lamp to the VisTrak Stereo system to better illuminate the ball for the stereo cameras.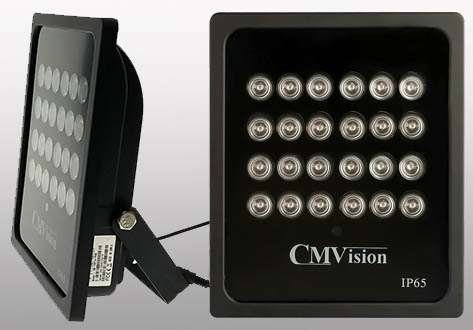 Short VisTrak IR Panel
A short VisTrak panel system will soon be available that features 2 instead of 4 IR LED panels for a lower price.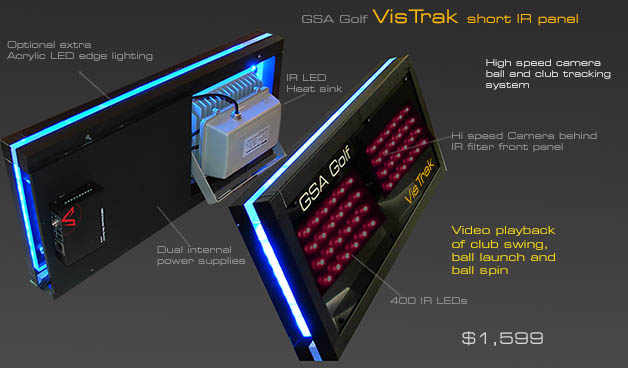 ---
April 9 7:10 pm
Less technical news on the product pages
I'll be in the process of removing most of the technical details (or at least moving them on to other pages)
on the products pages this weekend in order that they appear more sales oriented and don't overwhelm the reader with too much technical information.
A case in point today was the VisTrak LX page where I was going into details of how the LX measures ball spin. (now removed BTW).
Other than engineering freaks like myself, this information is of little or of no interest to the would-be average purchaser.
Suffice to say what the product does and leave the - how it does it - to only those that would truly be interested in knowing this.
This Tech News page - of course - will still be going into all the technical details as before though.
April 9 11:40 am
VisTrak LX1
New camera calibration underway for the LX1 now.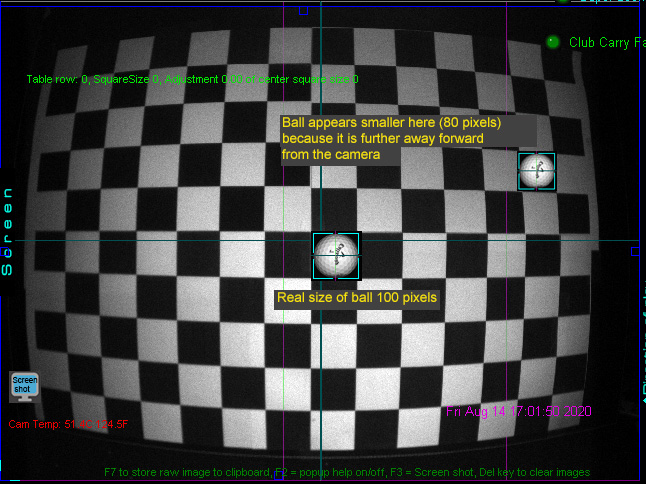 Using a new 2.8mm lens with a wider FOV, ball images look great.
System tests results will be published this weekend
---
April 8 4:50 pm
VisTrak LX1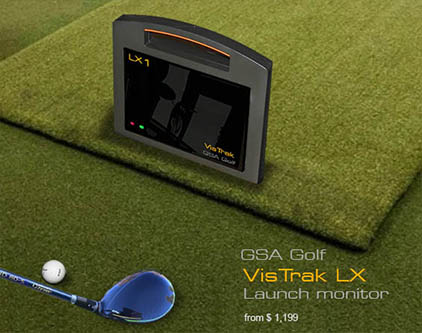 As the CX Stream is a way off from being completely tested and available,
we'll be looking into tweaking the LX1 now.
This product has been getting a lot of interest these days (especially at its new lower price)
and so - now that it has its own portable power pack (for use at the range) - we'll get to work on perfecting its operation.
April 8 10:00 am

- V 9.6.1.9 Alpha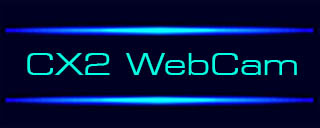 CX Stream option moved from the CP's main panel to the Setup panel.
More operating instructions on the CX Stream page.
VisTrak LX now has an optional portable power pack
---
April 7 3:20 pm

- V 9.6.1.8 Alpha
VisTrak - Big error found
A rather nasty error was detected in the VisTrak Club face detection code that could cause the system to hang, crash or - at the very least - produce incorrect results.
Thanks to Bob for pointing this out.
This error is now fixed in this CP version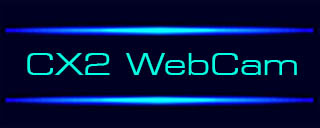 Coding of this system is now 100% complete.
A 3 month test and trial period will now begin.
Setup instructions to be published later this week for those that might want to try it out.
VisTrak - larger FOV
Customer Randy would like the VisTrak to have a larger FOV so that he can putt from other surfaces.
We'll, therefore, be testing the VisTrak with an 8mm lens (instead of the usual 12 mm lens) in order to achieve this increase in FOV next week
---
April 6 6:20 pm

- V 9.6.1.7 Alpha
New. "Launch data sent" message re-positioned in CP main panel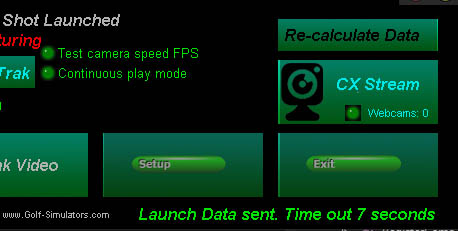 1. Change: irritating warning message no longer shown if the Vcam trigger delay is higher than 25ms but lower than 100ms with Vistrak Vcam systems.
2. CX Stream update
3. Fix: FSA (Full Screen Analysis) set on by default with new installations. FSA has been replaced by the Swing Video Capture feature.
---
April 5 3:50 pm

- V 9.6.1.4 Alpha
CX Stream update
New IBS for VisTrak Stereo and CX systems cameras and eliminating the LineScan camera
One of the positive results of the CX Stream development is the elimination of the LineScan camera.
i.e. VisTrak Stereo systems and CX systems will be able to run without the Line Scan camera soon.
Apart from the cost of this LS camera, it has always been somewhat problematic for users to use and required the use of non-reflective flooring.
So I'm sure many CX and VisTrak Stereo users will greatly appreciate this new development when it becomes available later this month.
In addition, VisTrak Stereo users will also be able to play the ball from other surfaces. i.e. not just play all shots from the VisTrak Launch Zone
New Lenovo Legion laptop in test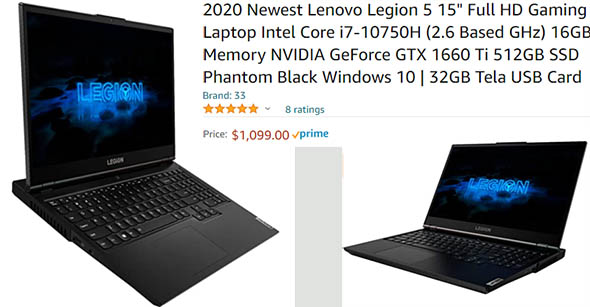 I just purchased this great new gaming Laptop for myself so I'll be reporting on its performance using multiple USB3 cameras while running E6 and TGC software shortly.
Great price and features with 4 USB3 ports too.
---
April 4 4:30 pm

- V 9.6.1.3 Alpha
1. New customer camera releases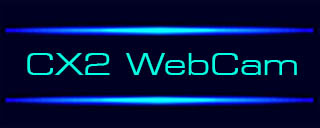 2. CX Stream first free Alpha release
Operating instructions yet to be published though
---
April 3 4:45 pm
GSA Golf new pricing structure
Over the last few days I've experimented with drastically lowering the price of tracking systems that don't require any (or very little) assembly.
i.e. the VisTrak Base with IR lighting for $999, VisTrak EV for $1,499 and the KX Lite AR from $1,199.
And low and behold - as anticipated - sales of these products have sky rocketed.
Just goes to show that price really sells.
As I so love this new business approach, I've decided to give even more incentive to customers to purchase the base and Lite systems
by not only decreasing the prices of them, but increasing the prices of all other systems that require considerably more time to assemble and package.
The IR panel products, in particular, are a royal pain in the B to assemble - taking up many hours of assembly - and have a far greater chance of arriving damaged in transport.
Therefore, all IR Panel product prices have now increased by between $1,000 and $1,500, while Base and Lite systems have decreased by this amount.
I like it. Certainly makes my life so much easier even though the margins are far lower.
April 4 10:50 am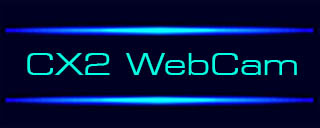 Coding of this system is now 99% complete.
Of interest (to me at least) is the - rather disappointing - frame rate reduction when running 2 cameras in stream mode on a single USB channel.
For some naive reason, I didn't expect this.
Unless I've made an error in the coding somewhere (which is not completely unheard of with my system development)
it appears that 2 cameras running on the same USB channel will only deliver half their rated frame rate.
i.e. 2 webcams rated at 60fps will only deliver frames at 30fps each and 2 USB3 cameras rated at 300 fps will on deliver frames at 150 fps each.
While this is not the end of the world for the CX Stream systems, it will be an issue with the new VisTrak X2 systems -
where I'm expecting both cameras to run at full 590 fps rate for a total frame rate of 1180 fps.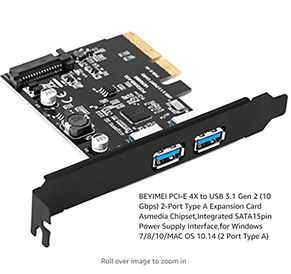 If the bottle neck is indeed the USB channel, then an additional USB3 card will have to be added to the PC - which isn't a pleasant prospect as the PC has to be opened in order to install it.
To be honest though, the chances of detecting ball spin with the X2 system won't be nearly as great as using 2 dedicated hi-resolution cameras that are just triggered to grab 2 hi-res freeze frames of the ball in flight.
i.e. my already developed dual camera Vcam B system using either 2 IR Xenon flash units or dual high-powered IR LED lights.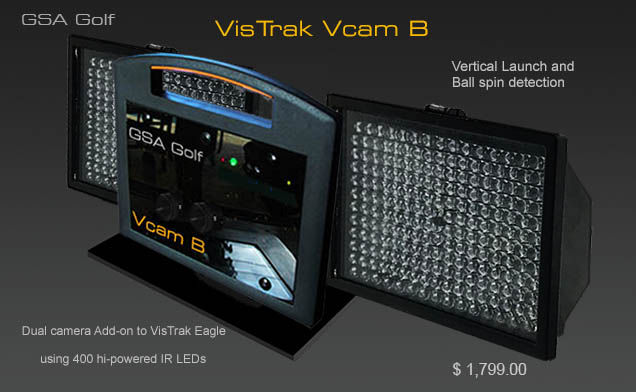 As I have the test equipment now for the X2, I will at least try it out, but if there's no luck,
then I'll combine the dual cameras of the VisTrak EV or VisTrak Stereo to make a tri or quad camera system, i.e. the X3 or X4.
---
April 2 11:59 am

- V 9.6.1.2 Alpha
1. New customer camera releases
2. CX Stream now running with USB3 machine vision (300 fps) cameras as well as webcams.
---
April 1 8:40 am
CX2 Webcam now renamed to CX Stream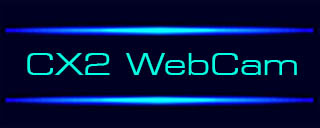 As this system is working out very well with its inherent video swing playback, I've decided to not limit the system to just webcams.
When using hi-speed machine vision cameras, the system can record all data (swing, club and ball) at 240 fps or higher, which result in far more detailed and accurate data.
As our regular CX cameras are not running in video stream mode (i.e. they are only being triggered), the name "Stream" would seam most suitable.
Especially with the letter "X" in front of it.
---
March 31 5:50 pm
New super low price for VisTrak EV (Eagle plus Vcam) systems
$ 1,499

---

- V 9.6.1.1 Alpha

Important update for KX2 users.
Click above image to read about the KX Vcam setup.
---
March 30 6:50 pm
VisTrak base systems now include dual 200 IR LED lamps for just
$ 999

March 30 3:50 pm
New super low priced deals on VisTrak KX systems


Now starting at just $ 1,199
KX software update coming tomorrow
---
March 29 6:00 pm
CX2 webcam first release due this week
I'm a tad behind at the moment due to increased sales volume, plus I had to spend half a day today getting my first Covid vaccination,
however, I'm confident the first free Alpha test versions of this product will be available this week.
March 29 9:10 am
CX2 webcam IBS tests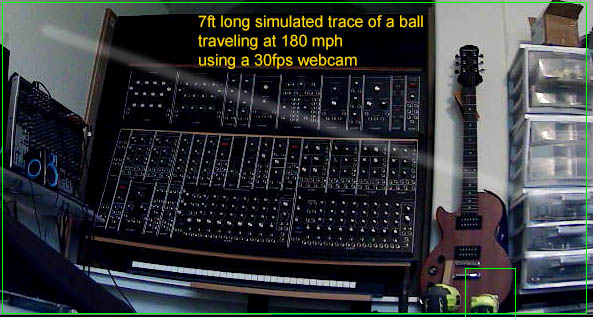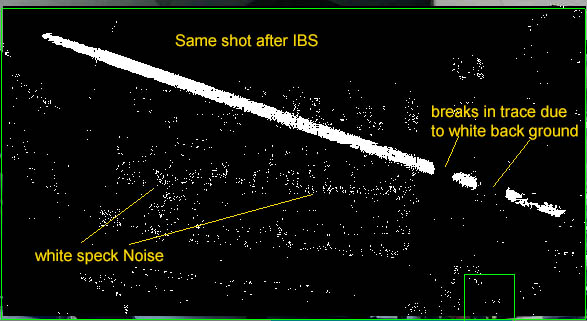 This is a simulated frame of a trace (motion blur) of a ball traveling at 180mph using just a 30 fps ($20) camera.
In order to pick up this very faint trace, the IBS level has to be set quite low. i.e. so as to detect smaller variations in pixel levels between the frame image and the IBS frame.
In so doing, we also pick up tiny specks (noise) of other pixel variations. As these specks can be identified as ether being single alone specks or small groups separate from the main trace line,
they can be removed from the image.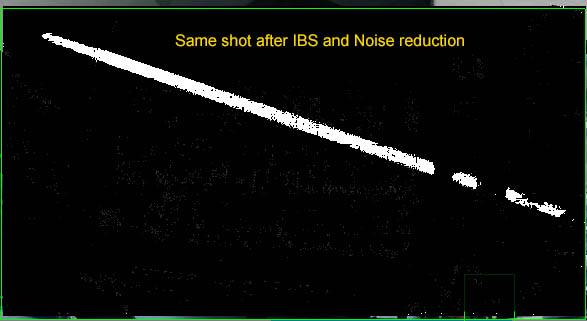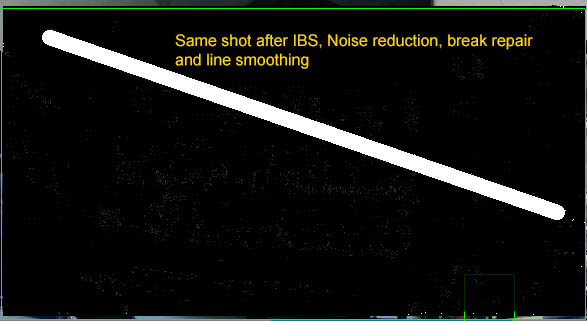 The other issue is that the trace won't be picked up when the background of the faint white ball trace is also white.
A trace continuity test can fill in the gaps though,
and the final touch would be to (programmatically) draw in a thick white line between the two ends of the trace.
My music instrument background here was used as a worse case scenario background to see where the issues would be.
Normally, the overhead camera will be pointing down on to a fairy consistent green turf carpet or flooring
and the side mounted camera would be pointing to a fairly consistent darker opposite side wall.
(i.e. having a Moog system 3 synthesizer with lots of shiny knobs in the background is not recommended)
---
March 28 2:30 pm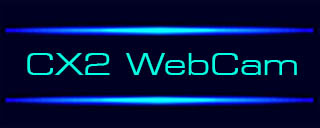 IBS tests - chip shots in the office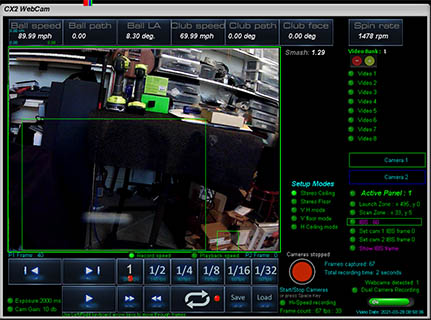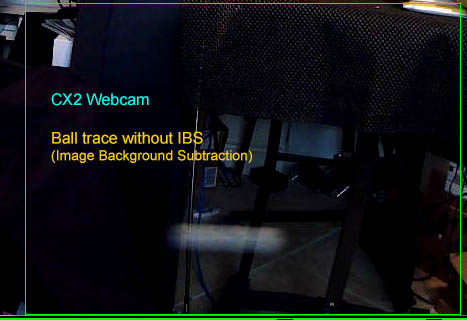 I made a couple of test chip shots in the office today to see how effective the new IBS method is.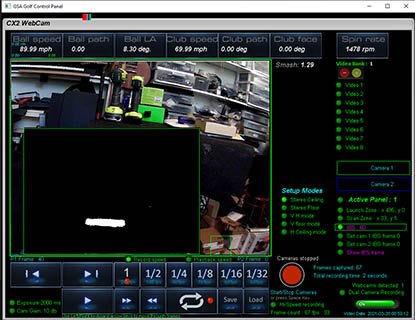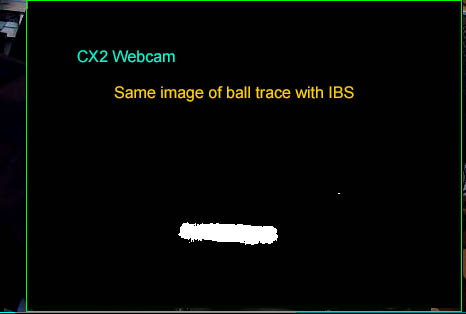 Results are just fine at slow speeds at least.
A little rough around the edges perhaps but the doesn't deter from measuring its length (for ball seed)
and launch angle (based on a known launch position).
Note that the large green bordered area is the user defined scan zone area for the ball in flight and the small green bordered area is the user defined ball launch zone area.
Before I start setting up the system in the showroom (or my garage) and attempting to hit 180 mph shots,
I'll load some test images of hi-speed ball traces into the system to see how they fair.
At high speeds the ball trace will be very faint, but as we now have 3 color channels to work with (Red,Green,Blue),
I'm confident that the ball trace can be detected even though it will be hardly visible to the eye before running the image through IBS.
Real hi speed testing will commence in the coming next weeks.
---
Coming up next week
1. first CX2 WebCam Alpha test release - free of charge
March 26 3:25 pm
Coming up next week
1. first CX2 WebCam Alpha test release - free of charge
2. New IBS system for VisTrak Stereo and VisTrak Stereo LS systems that eliminates the requirement to use dark non-reflective flooring
Thereafter
1. VisTrak X2 - hi-speed (1000 fps) stereo camera system with ball spin detection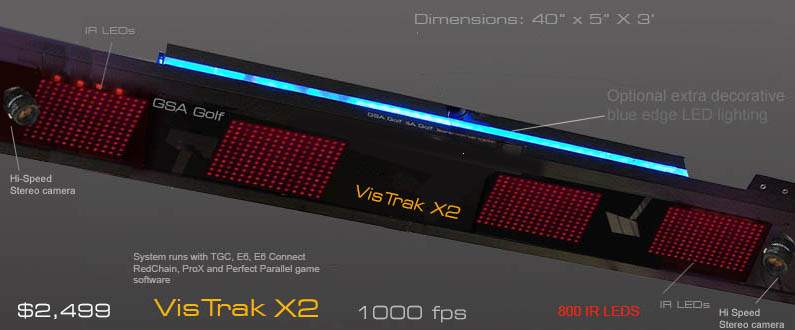 ---
March 25 8:15 pm
CX2 WebCam now free of charge
for all VisTrak and CX camera users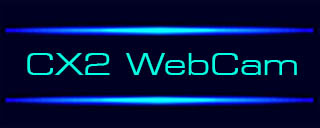 The CX2 WebCam software will soon be available free of charge for all new and previous GSA Golf CX and VisTrak users.
March 25 11:56 am

- V 9.6.1.0 Alpha
1. New customer camera releases
2. CX2 WebCam development now 90% complete. First Alpha trial version expected to be ready this weekend
---
March 24 10:20 am

- V 9.6.0.9 Alpha
VisTrak IBS
(image background subtraction)
Fix: incorrect IBS frame being used.
(The ibs frame is the frame of the ball on the tee before ball strike. It is the frame that is used to subtract from all frames after ball strike)
March 24 8:40 am

- V 9.6.0.8 Alpha
VisTrak Stereo
Fix: incorrect ball speeds being calculated when EC switched ON
---
March 23 2:50 pm
VisTrak Stereo LS
Possible error in ball speed calculation when using VisTrak Stereo LS systems.
Problem should be resolved by tomorrow.
CX2 Webcam
Coding of this new system is now 80% complete.
First Alpha releases should be ready by the weekend.
---
March 22 7:30 pm
My view of the current golf simulator tracking system market ... part 2
Another hectic Monday comes to an end. Great sales though, so mustn't grumble.
Continuing on with my theoretical market analysis...
So if we assume that for every high end tracking system that sells in the $20,000 range ( Trackman, GC Hawk etc)
1000 super low end systems selling in the $200 range - that basically do the same - are sold,
we could assume that the sales volume of such a low end product vs such a high end product ratio would be 1000:1.
Taking this ratio forward, then for every $2,000 system sold, 100 low end systems - selling the the $200 range - would be sold.
e.g. for every $2,000 SkyTrak that is sold, 100 CX2 WebCam $199 systems would be sold.
All pie-in-the-sky theoretical wishful thinking on my part I'm sure, but I'm cautiously optimistic that these ratio figures could actually be real.
Time will tell as they say.
---
March 21 7:30 pm
CX2 Webcam
BTW I'm not too happy with the name "CX2 WebCam" at the moment.
It's a bit of a mouth full isn't it.
Anybody got any better name ideas?
I was thinking along the lines of a 2 syllable name like - maybe - "Golf-i" or "Golf Eye" or similar.
March 21 5:30 pm
My view of the current golf simulator tracking system market

As I've been in this business for some 25 years now, I like to think that I have a relatively good idea of the current state of this market.
The way I see it, we can break down the tracking system market as follows:
1. The super high end market selling in the $10,000 to $20,000 range (Trackman, GCQuad, etc)
2. The mid high end market selling in the $7,000 to $10,000 range (Uneekor,TruGolf, Flightscope etc)
3. The mid range market selling in the $3,000 to $6,000
4. The mid low end market selling in the $1,000 to $3,000 range (Skytrak, VisTrak, etc)
5. The low end market selling in the $500 (Mevo etc)
6. The super low end market selling in the $200 to $300 range (Optishot, CX2 Webcam etc)
Back in OptiShot's hay day, conservative estimates showed that for every $20,000 Trackman that sold, some 1000 to 3000 $299 OptiShots were sold.
While those good old days are probably gone now, it does goes to show what a difference price makes when it comes to sales volume.
And I wouldn't be surprised that Optishot made a bigger profit back then too.
Hence my enthusiasm for the my new CX2 WebCam, all camera ball and club tracking system starting at just $199.
I'm sure my mid-low range VisTrak systems will still sell very well, but I wouldn't mind betting that my Webcam systems outsell it 100 to 1.
And who knows, maybe the CX2 WebCam will actually be the next OptiShot - especially as if my friend Kevin (CEO of OptiShot) would like to team up.
Now that's a winning team for sure.
March 21 1:20 pm
CX2 Webcam
IBS, Launch and Scan zones completed.
Software keys:
As WebCams don't feature secure serial numbers, a software license key method has to used to prevent unlawful copying of the software.
It's a bit of a bind but I don't see any way around it.
The method: The CP generates a unique machine ID (from the CPU, HardDrive, Mother board etc serial numbers in the PC) and sends it to us.
We then generate a software key based on the users machine ID that is sent back to the user.
The CP then regenerates the machine ID and compares it to the Software Key. If they match, then the software is activated.
March 21 8:10 am

- V 9.6.0.7 Alpha
Fix: after using either the SwingCaputure or the CX2 Webcam, image rendering of frames from the VisTrak camera not shown correctly
---
March 20 7:25 pm
CX2 Webcam

Two of the most intriguing aspects about this product for me is that:
A. There's no manufacturing required
B. There's no shipping required
i.e no matter where in the world the customer is
(New Zealand, Australia, South Africa, Europe, Asia, South or North America etc)
the customer has his product instantly.
And for just $199, I could well imagine it would sell in thousands. Available on Amazon soon too.
March 20 1:10 pm

- V 9.6.0.6 Alpha
CX2 Webcam
Basic dual camera streaming, rendering and dedicated panel completed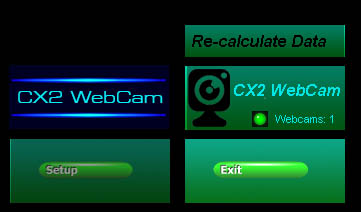 ---
March 19 2:20 pm
VisTrak club detection without tracking dots or strips using IBS ? YES!

- V 9.6.0.4 Alpha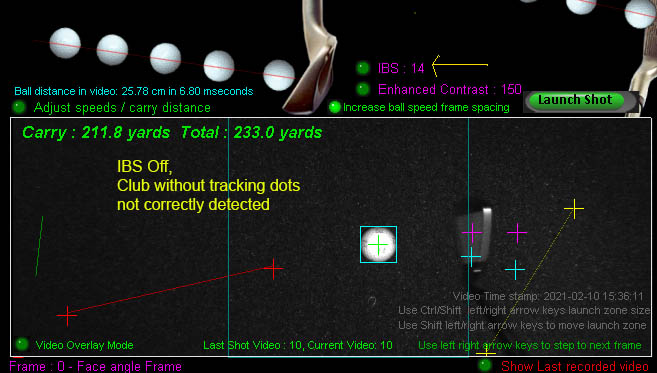 The above image shows what typically happens if the club is dark and tracking dots or strips are not applied to the club.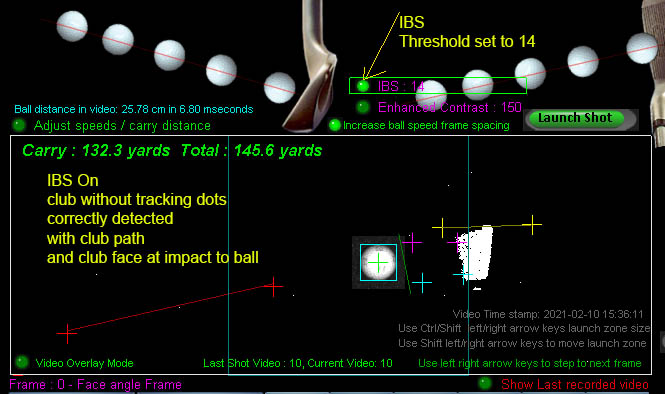 Using the new VisTrak IBS, perfect club face and club path detection. WITHOUT Tracking DOTS !
Not even $10,000 to $20,000 systems (like GCQuad or Uneekor) can do that as far as I know.
You may have to experiment with the IBS Threshold level in order to get best results. i.e. with minimum white specks.
I may be able to smooth up the edges later.
March 19 8:45 am
VisTrak club detection without tracking dots or strips using IBS ?

As IBS will be used extensively with the new WebCam systems,
we'll also try it out on VisTrak systems too so that tracking dots or strips won't be required.
---
March 16 7:40 pm

$ 199
CX2 Webcam - The concept

My idea behind this project is to offer a camera based tracking system for use as a golf simulator at such a low price
that most won't have to think twice about purchasing it as the system comes with the full version Video Swing Capture software ( that allows videos to be saved) ,
and thus any small investment in a couple of webcams won't - in any case - be lost even if the purchaser doesn't end up using the system as a golf simulator tracking system.
i.e. For this price, either way, you just can't loose.
March 16 6:20 pm
CX2 Webcam IBS (Image Background Subtraction)
As the webcams are capturing frames multiple times in a second, we can really go to town with IBS now.
In contrast to the old IBS method, that would only periodically grab IBS frames which caused issues due to fluctuating lighting,
the webcam IBS will be able to subtract the previous image of the ball a split second before club - ball impact.
In theory, at least, applying IBS to the next frame image of the ball in flight a split second later should leave nothing else but the ball (or ball trace) in the frame.
CX2 Webcam Lighting
This is still an unknown at this point of the development and could, potentially, be a sticking point.
As Webcams are color cameras, they may require visible lighting instead of non-visible IR Lighting.
I'll be testing various lighting methods shortly.
---
March 15 7:30 pm

CX2 WebCam ball tracking system
$ 199
Following up on the development success of the webcam Video Swing Capture system, we'll now move on to the CX2 webcam ball tracking system.
As with the webcam Video Swing Capture system, users will be purchasing their own webcams on Amazon (in the $50 range)
and will download the free trial version of the CX2 Webcam software.
First Alpha test versions should be available next week.
March 15 2:00 pm
GSA Golf
Video Swing Capture - now Free!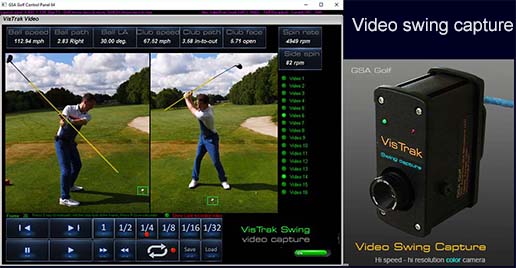 Click above to download your free Video Swing Capture
While it would be nice to earn a little on this great new software feature, I've decided to offer it for free in order to promote the "GSA Golf" name.
The fact that it works great and is free of charge, could mean that 10s of thousands will download and use it
(i.e. anyone that has a golf simulator or is on a driving range wishing to see how their swing looks)
and I couldn't ask for any better promotion than that.
BTW many more free of charge features are coming up.

- V 9.6.0.0 Alpha
Fix: Incorrect fps (too low) being calculated with Video Swing Capture - correct value is in the 60fps range
Fix: Frame buttons not lighting up in camera window with LX2 systems.
VisTrak X2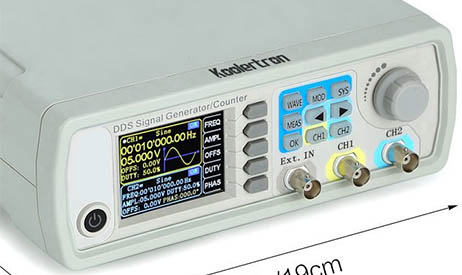 Before I start messing around building oscillator circuits to test the VisTrak X2 camera trigger system, I'll hook them up to signal generator.
I'll then compare the hardware method to the software method of triggering the cameras to see if there's any major difference.
---
March 14 12:00 am
VisTrak X2 conversation and upgrades for current VisTrak users
For those that already have a VisTrak camera, a low cost conversion to VisTrak X2 will be available.
March 14 9:50 am
Coming soon : VisTrak X2

Individual Cameras, IR Lights and cables
$ 1,799.00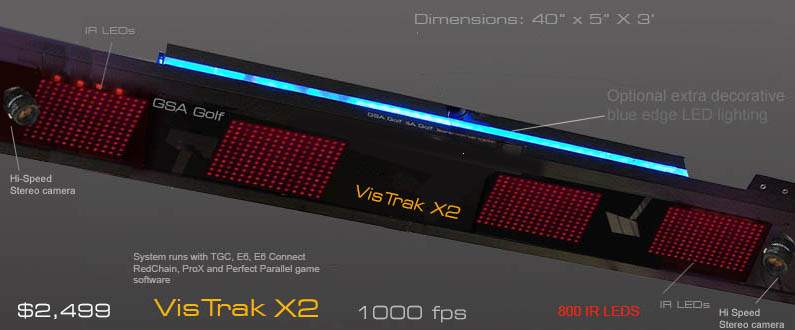 Full system with IR light panel
$ 2,499.00
Dual hi-speed VisTrak Eagle cameras
Either both ceiling mounted in a stereo setup or 1 ceiling and 1 floor mounted.
Data captured: Ball LA, Speed, Path and Spin, Club Face Angle, Speed and Path
Video playback from both cameras
Synchronizing two hi-speed cameras to double their frame rate.
In order to essentially double the frame rate of a camera system using 2 cameras, the cameras have to synced so that each camera is triggered one after the other .

So for every cam 1 trigger, we get a following cam 2 trigger.
This method (either hardware or software) ensures that the cameras are perfectly synced to produce a continuous video stream just like a single camera.
A single VisTrak camera runs at 590 fps, so using this method, a theoretical frame rate of 1180 fps can be obtained.
The fact that there are 2 cameras, allows them to be mounted separately for either a dual ceiling mounted stereo system of a V,H camera system.
Development and testing of this system is underway and is expected to be ready within the next two weeks.
Measuring ball spin without special markings from an overhead stereo camera system.
Up until now, it wasn't possible to measure ball spin from an overhead VisTrak camera due to the frame rate being too slow.
With the VisTrak X2, we have double the frame rate and double the number of frames, so the there are plenty of frames showing the rotating ball with its logo.
We can thus count the number of times the ball logo appears in the frames and its position in order to calculate the spin rate and spin axis.
The VisTrak X2 is very similar to the Uneekor system in this respect, only that the price of a Uneekor is 4 times higher.
---
March 13 3:40 pm
Coming up : The GSA Golf "Spring collection"
There are now 4 major developments in the pipe-line for this Spring.
1. Swapping out the expensive Flir Stereo H and Vcam cameras for low cost ($50) 120fps webcams.
2. Running two VisTrak cameras (VisTrak X2) on one PC in order to measure ball spin plus club swing video playback on one PC.
3. Capturing club data with a low cost ($50) 120fps webcam.
4. Pricing the systems such that the end-price is the lowest price on the market by far. (i.e. in the $199 to $799 range).
March 5 8:50 am

- V 9.5.9.0 Alpha

New 1: new beep wav sound file
If the regular beep sound is not working on your PC, use this new wav sound.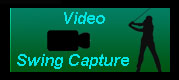 New 2: Video Swing Capture development 90% complete
---
March 3 6:00 pm

- V 9.5.8.8 Alpha

New 1: It has been noted that the "Beep" sounds are not functioning on some users PCs.
Not sure yet why this is yet but, as many like this feature to audible indicate that the ball has been detected on the mat and the system is ready for swing,
I've added the voice only message for ball detection in case beeps are not working on your PC.
---
February 27 8:10 am

- V 9.5.8.5 Alpha
Enhanced Contrast (EC) tweak
VisTrak in low lighting conditions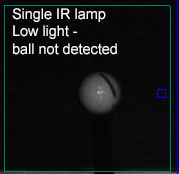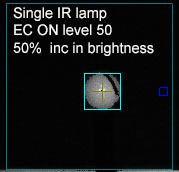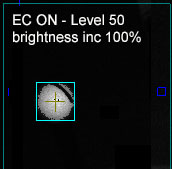 Testing the VisTrak today using just a single IR lamp (instead of the usual 4 lamps) and increasing the EC brightness,
showed that the system works just fine with just a single IR lamp.
Note that the EC threshold level was set at 50 though.
---
February 24 5:50 pm
Currently in development - the V2 versions of the VisTrak KX and VisTrak Eagle Vcam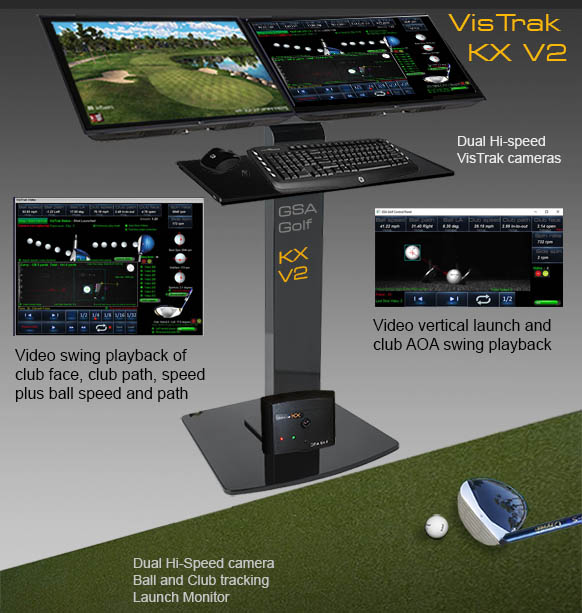 The VisTrak V2 versions of the KX and VisTrak Eagle Vcam systems - featuring dual video playback using dual VisTrak cameras - are currently in development.
Priced at $2,999, these versions will be available in the next coming weeks.
The VisTrak V2 systems represent the ultimate in ball / club contact video analysis
---
February 21 9:30 am

- V 9.5.8.4 Alpha
New 1:
Auto system type recognition and auto default settings
As I've done a number remote access support sessions recently that showed that the user didn't even set the system type correctly,
we'll have to auto detect the system type based on the cameras installed.
e.g. if a customer that has purchased a VisTrak Eagle but (like as session with a customer yesterday) the CP system type was set to a CX2 (i.e. a non VisTrak system)
then the CP will automatically detect this and default to a VisTrak Eagle system.
This version will thus default to a VisTrak Eagle if a VisTrak camera is detected and a non-VisTrak system type has been selected.
New 2:
The option "Measure ball speed and path from stereo cameras" with the VisTrak Stereo (non LS ) system has been removed
as ball speed and path should only be measured from VisTrak camera in this system.
February 20 2:40 pm

- V 9.5.8.3 Alpha
Fix: Ball not being shown as detected (although it was) in the VisTrak window after a manual Soft Trigger.
---
Martin Gardiner. GSA Golf founder.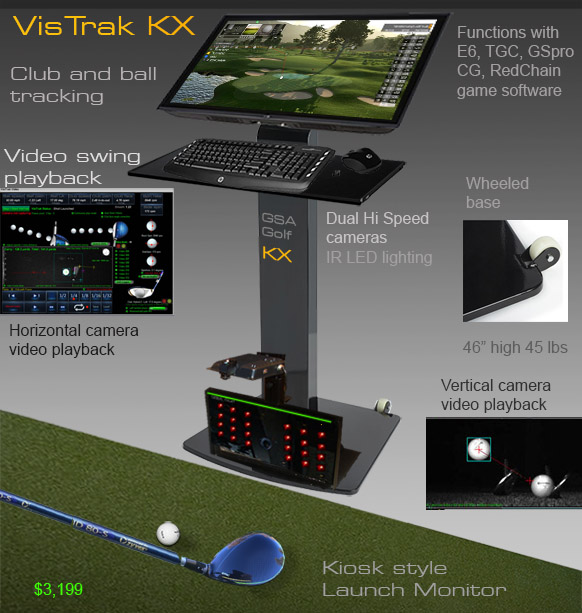 VisTrak KX : new lower prices - now starting from just $2,299
Functions for both LH and RH players.
Just rotate unit on its wheels to switch from RH to LH and vice-versa
---
February 16 8:35 am

- V 9.5.7.9 Alpha
Tee height adjustment for VisTrak stereo systems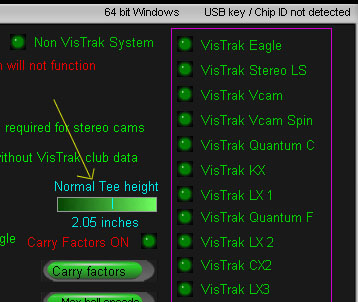 When using a driver, the tee height value (in the setup window) will be deducted from the measured ball height which will result in a lower vertical launch angle.
---
February 9 9:35am

- V 9.5.6.2 Alpha
Minimized control panel button positioning with the mouse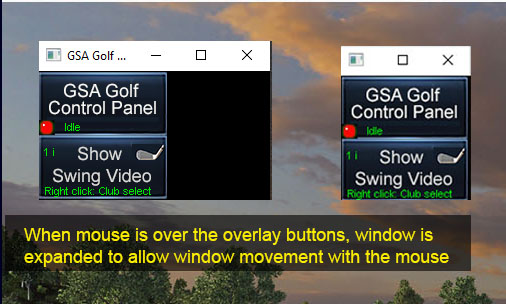 As sometimes the minimized control panel buttons can block the view of certain items in the game software,
you'll now be able to simply move it around with the mouse.
The last position is stored so that it always appears in the new position every time you re-start the CP
---
Wait time after ball launch
Customer request:
This time is now user adjustable in the setup window.
Default is 14 seconds.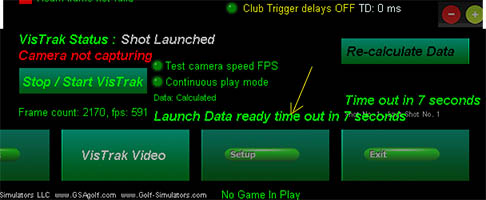 ---
January 22 3:35 pm

- V 9.5.3.4 Alpha
Wait time after ball detected on mat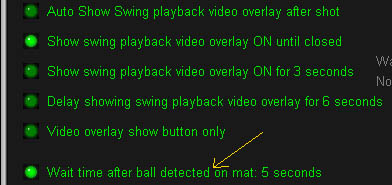 User request: make the time the system waits after the ball has first been detected on the mat user adjustable
so that the player can move the ball around for a while or to add more time for the player to tee up the ball.
This feature is now in the Setup window
---
January 21 12:15 pm

- V 9.5.3.1 Alpha
Password protected system Administrator mode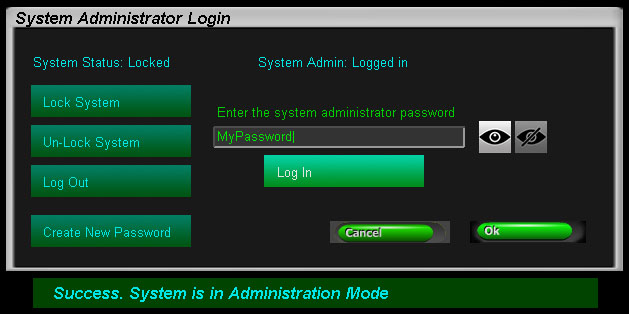 Okay, after a good 12 hours plus of coding, I have 99% of the new password protected administrator mode functions completed.
As this is a test, you can still create a new password even though you're not logged in as the system admin.
I made it like this for the moment to ensure users don't lock themselves out if they have forgotten the password.
When the system is in locked mode, no changes can be made to the system settings and there is no access to the camera and setup windows.
Other than the VisTrak video window and the CP's main window, no other windows can be accessed.
---
January 20 1:10 pm
Password protected system Administrator mode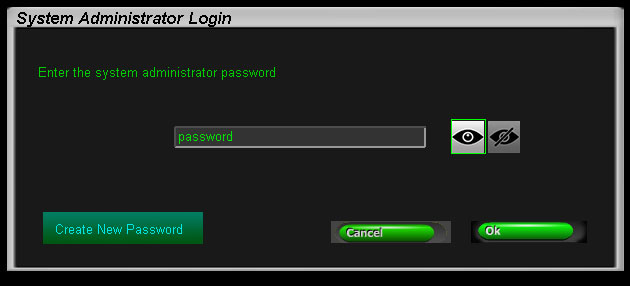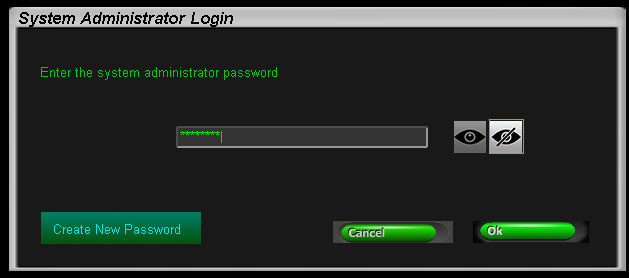 The new password protected system administration mode is nearing completion.
Update is expected later today or tomorrow morning.
Note that the user can also enter a password in order to lock the CP should the system have been purchased without pre-password protection.
Should the user (or system administrator) forget the password, then they will have to contact us to unlock the system with a secret master password.
Either that or re-install the system.
The password is encrypted and stored in a secret location on the PC and is never visible after it has bee created, so is very secure.
---
January 19 9:35 am

- V 9.5.3.0 Alpha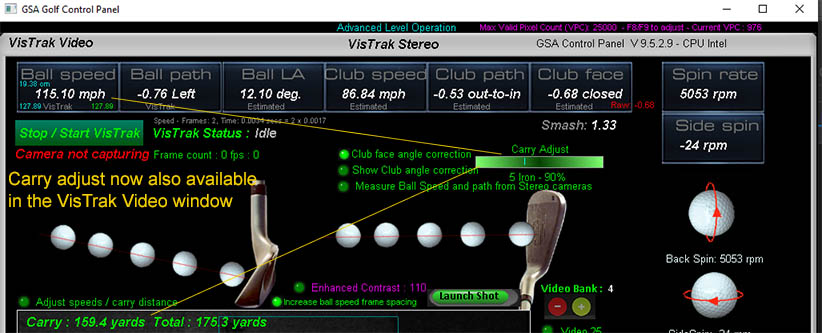 New: You can now adjust carry distances (i.e. ball speed) directly in the VisTrak Video window and see the results immediately.
---
January 18 8:45 am

- V 9.5.1.6 Alpha
Update for VisTrak Vcam Spin systems
January 12 10:30 am
Slowly working through the support video emails that have been sent in recently.
This one is from Mark, who is wondering why his VisTrak Vcam ball trace isn't being detected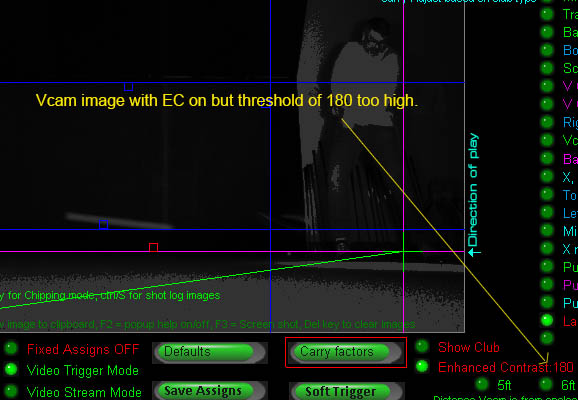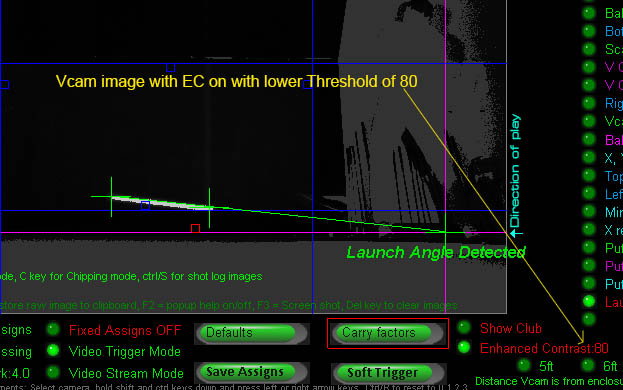 Mark seems to have switched Enhanced Contrast ON, but - because the threshold is set too high - the ball trace was darkened instead of being high-lighted.
Adjusting the Threshold down to 80 fixes the problem.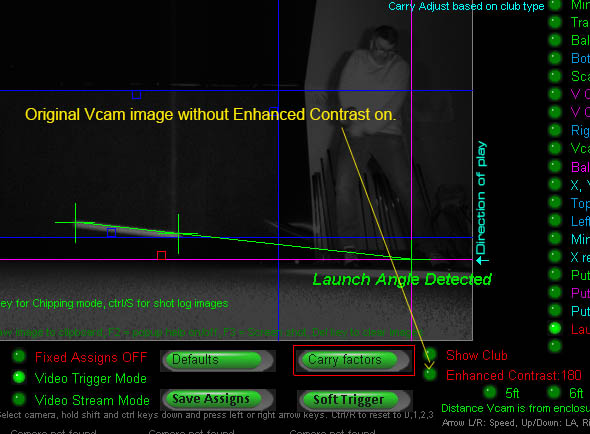 The original Vcam image from Mark was looking good anyway, so EC isn't really required in this case.

- V 9.5.1.5 Alpha
Out of sync messages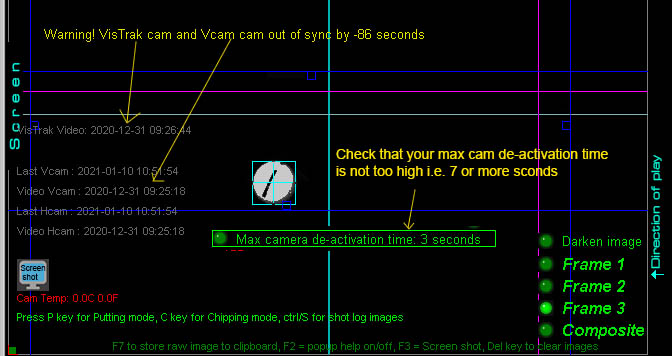 January 10 12:15 pm

- V 9.5.1.0 Alpha
Ghost images in stereo cameras or Vcam camera. i.e. images left over from the previous shot or previous trigger.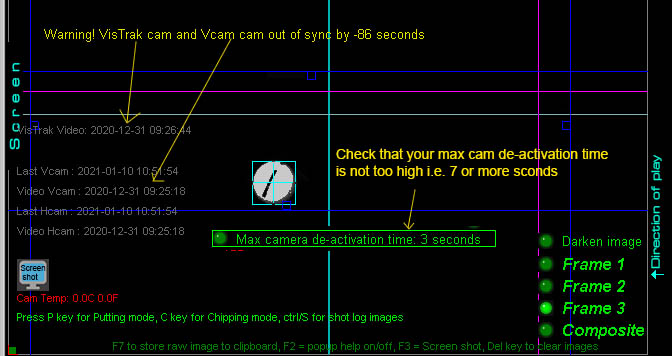 A - or most - possible cause of so called "ghost images" is that the stereo or Vcam cameras either weren't triggered - or if they were - the cameras were in a de-activated state.
Ball cameras are automatically de-activated for a few seconds after triggering to insure that they are not double triggered by the following club head.
If - after the VisTrak camera detects the ball on the mat - the ball is moved slightly or a hand is placed down over the ball, the ball stereo or Vcam cameras will be triggered to caputure new shot frames
and thus they will be placed in a de-activated state.
If the player then plays the shot while the cameras are still in the de-activated state, then no new ball images will be captured and the user then sees the previous last captured images in ball cameras.
In this Alpha version of the CP, a check is made to see that the VisTrak camera time stamps are the same - or close to the same - as the Stereo or Vcam images
and if not, a warning message is displayed (as in the above screen shot).
In order to prevent this, it is recommended to keep the camera de-activation times low. i.e. 3 seconds or so.
---
Enhanced Contrast now available for CX2, CX3 users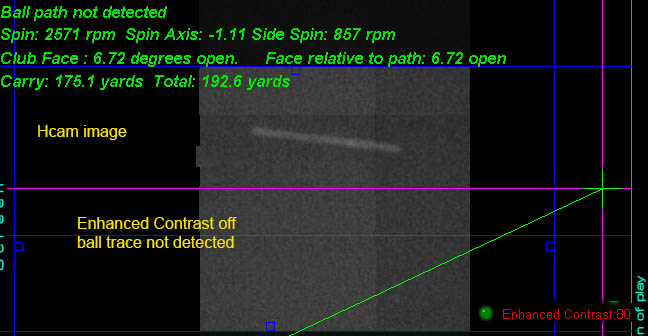 Very faint ball traces from the Hcam are very difficult to detect if - as in the above image - the flooring is too reflective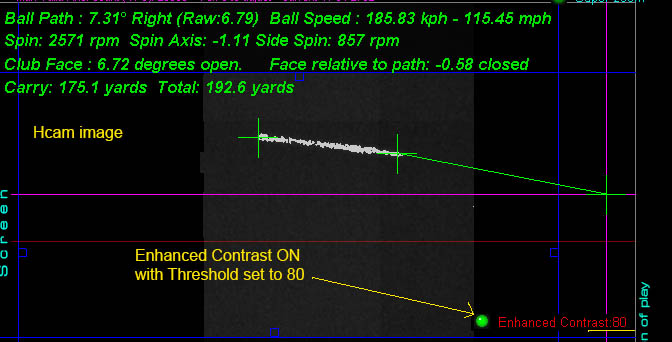 Switching the new Enhanced Contrast ON and setting the threshold down to 80 solves the problem
---